Scope
This procedure applies to all clients who were certification-awarded by TQA.
Objectives
This specifies procedure for suspension and withdrawal of certification to the client organization certified by TQA which does not meet conditions and stipulated requirement in certification maintenance, or certification maintenance failure of client or voluntarily withdrawn by client.
References
3.1 PRS.03 Contract Review Procedure 3.2 PRS.05 Document Review/ Stage 1 Audit 3.3 PRS.07 On-site/ Stage 2 Audit 3.4 PRS.08 Surveillance Audit 3.5 PRS.09 Follow-Up Visit 3.6 ISO 17021 3.7 ISO 22003 3.8 ISO 27006
Operation criteria
4.1 Certificate & mark which presents the certification of client's management system should not be used in a way that lead misunderstanding. 4.2 Management system-certified clients should conform to the scheme of TQA. 4.3 Whole period after suspension should be within 3 months.  
Operating procedure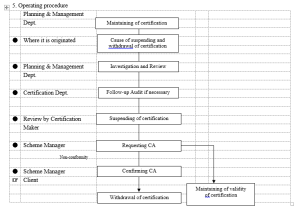 6.1 Maintaining of certificationDetailed procedure 6.1.1 Clients certified by TQA can maintain certification by paying certification expenses. 6.1.2 Regarding clients certified by TQA, defined surveillance should be conducted and their certification can be maintained by implementing of the contract. 6.1.3 Clients certified by TQA can maintain certification of their system keeping relevant TQA instruction on applicable Management System certification mark & logo. 6.1.4 Directory for granting, suspending, withdrawing of certification shall be kept or managed with internet media to allow general public or interested parties to confirm and access for reading via such media, where those intend to confirm such status, and then the status requested shall be informed in the form requested by those. The contents on the status is as follows, in case the contents is confidential information of specific client, approval of client is required to inform such. (1) Name of certified organization (2) Certification scope (3) Certification status : maintained, suspended, withdrawn etc. (4) Address of certified organization (5) Date of granting certification and valid period of certification (6) Contact information etc. where necessary 6.2 Cause of suspension & withdrawal of certification 6.2.1 Staffs who work for TQA should report to scheme manager the following factors when they found them out. 1) Misuse of certificate and logo 2) In case the certified client does not allow surveillance or re-certification audit to be conducted without reasonable excuses (ex. Natural disaster) 3) the client's certified management system has persistently or seriously failed to meet certification requirement, including requirement for the effectiveness of the management system. 4) For QMS/EMS/FSMS/ISMS, in case of any violation of related legislation and regulations. 5) In case of making any sensational problems and which is published into mess media 6) In case site is closed down in Multisite Certification Procedure, however, not noticed such. 7) In case the client has persistently or seriously failed to meet certification requirement towards full or partial of certification scope. 8) In case the client has voluntarily requested a suspension. 9) Any other matters not met requirement for maintenance of certification. 6.2.2 Scheme manager confirm reported contents, collect relevant material & review whether certification would be suspended or not. Regarding minor problem, CA can be requested in writing. 6.2.3 In case evidence wasn't collected enough, re-audit can be conducted, team leader should report the results to scheme manager. 6.2.4 In case evidence of violation and withdrawal is confirmed, suspension or withdrawal of certification is made according to certification committee decision. In case of voluntarily withdrawn, separate deliberation at certification committee may be skipped. 6.3 Suspension of certification 6.3.1 Scheme manager should suspend the certification when: 1) When certified client's management system continuously does not satisfy the requirement of management system's effectiveness 2) When audit cycle is rejected or cancelled without reasonable excuse (within the period of 12months for surveillance audit) 3) When certified clients request suspension for their certificate 4) When corrective action is confirmed to be false in the contents 6.3.2 Scheme manager should notify the following contents to client in writing and enter the information on the Intra Net when suspension of certificate happens 1) Certified Organization 2) Certificate Number 3) Certification Type 4) Certification Scheme 5) Certification Scope 6) Address 7) Length of suspension 8) Reason for suspension 9) Information on suspending certificate and its mark 6.3.3 Client may possess certificate even to the certification suspension duration, however, if the client organization use certificate for formal purpose, and then the original copy of certificate shall be returned. The suspension duration for the certification shall not exceed 6 months at the maximum, if exceeds, the certification shall be withdrawn. 6.3.4 Checking corrective actions Confirmation of corrective action must be done in the same way that is done during the initial audit. When the result is suitable, the effectiveness of certificate will be maintained. 6.4 Cancellation of certificate 6.4.1 Scheme manager should cancel the certification when: 1) When certified client's management system continuously does not satisfy the requirement of management system's effectiveness 2) When audit cycle is rejected or cancelled without reasonable excuse (within the period of 12months for surveillance audit) 3) When certified clients request suspension for their certificate 4) When corrective action is confirmed to be false in the contents   6.4.2 Scheme manager should notify the following contents to client in writing and enter the information on the Intra Net when cancellation of certificate happens 1) Certified Organization 2) Certificate Number 3) Certification Type 4) Certification Scheme 5) Certification Scope 6) Address 7) Length of suspension 8) Reason for suspension 9) Information on suspending certificate and its mark
Maintaining of records
Record related to suspension and withdrawal of certification shall be maintained and controlled in accordance with [Record Control (PRS.16)].   8 Related Document(Cross Reference)
Relevant Document
Relevant Form
Retention Duration
Certification System Manual  Requirement for Process       / EM-09
Notification of Certificate Cancellation
For 3 years after withdrawal of certificate
Notification of Certificate Suspension
For 3 years after withdrawal of certificate